Bio-Penetrating Lubricant™ A specially formulated, ultimately biodegradable1 penetrant that can be used as a light lubricant.  Because of the super high viscosity index of the HOBS, this product performs in many applications.  BPL™'s patented composition of additives and base fluids provides a protective, thin film lubricant.  This natural oily film has shown in laboratory and
Bio-Penetrating Lubricant™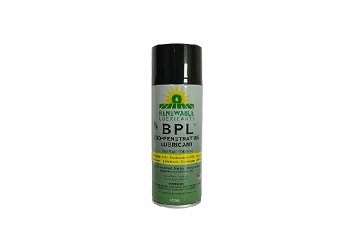 A specially formulated, ultimately biodegradable1 penetrant that can be used as a light lubricant.  Because of the super high viscosity index of the HOBS, this product performs in many applications.  BPL™'s patented composition of additives and base fluids provides a protective, thin film lubricant.  This natural oily film has shown in laboratory and field tests to outperform petroleum base oils in terms of natural lubricity.
BPL™ is formulated to penetrate into close tolerant areas, then lubricate, and prevent corrosion.  BPL™'s ability to creep is demonstrated by placing a 3/8" x 2" bolt on its head with ¼" of BPL in the bottom of a lab beaker; BPL™ creeps vertically up the threads.  It protects deep into the core of a cable or chain link and is excellent as a light air tool lubricant and preservative oil for parts.  BPL™ contains no VOCs, displaces moisture, and provides a high dielectric (47 kV ASTM D-877) insulating property in electrical equipment.  BPL™ has exceptional benefits over petroleum oils in these applications because there is direct danger of polluting the water, soil, or work environment through loss of the petroleum lubricant.
Applications     – Military – Industrial    – Transportation        – Marine – Agricultural
Tools               Machine Tools             Bearings                       Bolts
Jacks                Assembly Parts                        Wire ropes                   Chains
Dies                 Shafts                          Hinges             Firearms
Locks               Linkage Cables                       Air Valves                   Air Tools
Typical Data
Specific Gravity   @60OF.                 ASTM  D-287                        .871
Viscosity    @40OC., cSt.                   ASTM  D-445                             13.
Flash Point, PMCC                             ASTM  D-93                   295OF (146OC)
Pour Point (Rotational)                       ASTM  D-5985                                  -30OC
Four Ball Wear                                    ASTM  D-2266                                  .40 mm
Copper Corrosion Prevention             ASTM  D-130                                    1A
Rust Prevention                                   ASTM  D-665
Distilled Water                                                                         Pass-Clean
Synthetic Sea Water                                                                 Pass-Clean